Can You Really Make Money On ClickSure?
he simple answer is YES, you can really make money on ClickSure. This affiliate network works like any other affiliate network in that they are just a middleman between you and vendors. They help vendors recruit and pay affiliates, and they allow affiliates to find many products to promote under one roof.
However, making money on ClickSure will require some thinking on your part, because they have a very bad reputation in the internet marketing industry.
In this post, I'll discuss what this bad reputation is all about, as well as how to make money with ClickSure products (and affiliate marketing in general). By the end of this post, you'll have a general business plan of how to get started!
How To Make Money With Affiliate Networks
If you are brand new to affiliate marketing, here's a quick rundown of how things work. There are three people you need to know about.
1. Product Creator (Vendor)
2. Product Buyer
3. Affiliate (You)
The product creator makes something that at the buyer wants. In order to get his product in front of as many eyeballs as possible, he pays affiliates to go out and advertise the product. He can pay affiliates anywhere between 5% and 100%, but with digital info products like they have on ClickSure you normally see somewhere between 20% and 75%.
How can they pay you that much?
They can afford to pay 75% because they aren't doing any work as far as advertising goes. They have to invest money in the creation of the product of course, but while you're out working your butt of trying to make sales, they're raking in a sweet 25% of your efforts without doing anything.
It's a great deal for everyone. They make money while you do free advertising. You make a huge chunk of profit from a product you didn't create. The buyer gets something valuable for their money.
The Affiliate is the person doing the advertising (that's you). "HOW" you make sales is up to you,  and marketing strategy is part of your job as a business owner. Most people build a website and try to get their site ranked in Google.
Affiliate marketing what I do for a living. But as of right now, I do not promote anything from ClickSure.
Is ClickSure A Scam?
No ClickSure is not a scam. They pay affiliates, and have been around for many years. Plus, they honor all refunds (I've done many). They are a legit company… with a twisted set of values.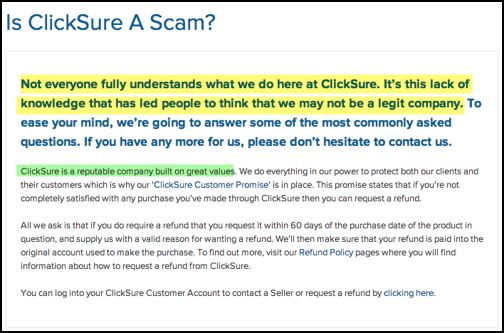 Although ClickSure is a legit company, 90% or more of the products that are featured on their website are flat out scams. I'm not even joking.
These aren't just bad products that I don't like. Some of them are lies that I've exposed on my website. Many products are produced under fake names, and designed to trick the buyer intoThey are often misleading, and sometimes tell blatant lies about what they are offering.
I've done many reviews of their products on my website. Here's a list of some recent products from their marketplace, and my personal reviews of them.
CLICK HERE FIRST: Watch How I Helped 26,461 Average Ordinary People Make $5,000/Month In 30 Days Without A Website Or Having to Pick Up The Phone.. Ever!
To become a Clicksure affiliate, you can go to ClickSure and sign up a new affiliate account under the affiliates icon listed on the top of the page.
Once you sign up, login to your new affiliate account and on the dashboard, click on marketplace. In order to start promoting products, you need to choose what to promote. Clicksure has a number of different categories that go anywhere from E-Business & Marketing products to Blog Marketing and even Pay-Per-Click Advertising products. If youre already well into your internet marketing career you probably specialize in a specific niche, or maybe even a number of niches. Choosing a product to promote that is in your niche is crucial to succeeding with affiliate marketing regardless of what website you are using to find these products and/or services that you are promoting, whether it be Clicksure or Clickbank.
If you are new to internet marketing or affiliate marketing, I highly recommend you build a solid credibility for yourself in respect to your reputation in the industry you want to take part in and develop a large customer or follower base before you start promoting products. People are not going to listen to some random person that does not have anycredibility in a specific niche, especially if theyre just trying to get everyone to buy products. You need to build an email list and create a relationship with everyone on this list before they start taking your advice on products youre trying to sell them from Clicksure.
Making Money with Clicksure
Making money with Clicksure is very similar to making money with Clickbank. Clicksure and Clickbank are two affiliate networks that operate in pretty much the same way.
You can sign up to both as either a merchant meaning that you have a digital product or service for sale or you can sign up as an affiliate marketer to promote merchants for a percentage of every sale. These are the two options you have for making money with Clicksure.
More than likely, you're probably looking to earn money as an affiliate marketer because you don't have a product of your own. This site deals with affiliate marketing so I'll focus more on that in this article.
How Affiliate Marketing with Clicksure Works
If you're going to make money with Clicksure, you'll need to first know how affiliate marketing works. Below you will see a simplified diagram of  the process.
The first step says that you add the link to your website. If you don't have a website as yet, don't worry because getting one isn't as hard as it may seem. You can usually start for very little investment and I can even recommend a place where you can get one for free.
To make money with Clicksure and affiliate marketing, the first thing you do is to click the "Affiliates" link on Clicksure and click the "Get Started" button. There is no fee to join Clicksure or any network as an affiliate.
You then set up your Clicksure account by entering some personal details so that you can get paid. When your account setup is complete, you can then begin the earning process by selecting merchants to promote.
The Earning Process
To earn money promoting Clicksure merchants, you'll need a good knowledge of affiliate marketing and how to advertise online with a website. You won't become an expert overnight from reading just one webpage but I'll just give you a quick overview of how everything works.
You can either research each of the steps below by searching on Google and Youtube for tutorials or you can get structured step by step training by creating a free account atWealthy Affiliate, a site where I learned how to make enough money to quit my day job.
Ok so here's how it works.
Step One: Find a product to Promote
The first thing you need to do is to find a product to promote. You can browse the Clicksure marketplace to find something or you can join a list like JVNotifyPro where they announce new launches. Most of the products you'll find at Clicksure caters for the "make money online" niche but there are other products as well.
Step Two: Setting Up a Blog or Web page
After you've found something to promote, you'll need to get the word out so that you can send people to the merchant and hopefully earn commissions after those people buy.
One of the best ways to do this is to set up a blog or webpage and write content that relates to the product. Kinda like what I'm doing here with this blog. Writing reviews of the product works very well and if you can get the keyword ("product name + review") at the top of the Google search engine, then you have the potential to earn a lot of money without spending anything on promotion.
Once you own your own website, you can also promote other programs and make money for months and years to come.
Setting up a blog or website is very simple. You'll need to get a domain name (less than $10/year) and you'll also need to get web hosting (about $7/month). The other option is to set up a free website which you can do to get a hang of the process.
Either option involves installing WordPress, which may sound intimidating at first but once you have web hosting it's just a matter of clicking a couple of buttons and your site is built for you by the software. You'll need to choose a design to make your site look unique and you're ready to go. It's that simple.
Step 3: Target Relevant Keywords
This step is part of a process called SEO or search engine optimization. You choose a keyword that you think people will be searching for to find the product you're promoting and you write an article about it.
For example, if you're promoting a product called "The Clicksure Profit System" (I made that up), then you can be sure that people are going to search for things like "clicksure profit system review" or "does the clicksure profit system work" or "can i make money with clicksure profit system".
All you need to do is pick one of these keywords (or all of them), write an article about it and post it to your site. You'll name your article after your keyword and Google will pick it up and post it to their search engine. If you write a great article, you may even find that you're #1 for the keyword. This means you'll get more visitors and more sales for your effort.
What I've outlined above is basically how promoting stuff online with a website works. It doesn't matter if you're using Clicksure or Clickbank or any other affiliate program.
Warning about Clicksure
Although you can make money from Clicksure and I've outlined the process for you, I would recommend going with an alternative like Clickbank.
The reason I say this is because Clicksure has gotten a bad reputation among affiliate marketers for having a lot of scam or low quality products in their marketplace.
Promoting such products can give you a bad reputation as well and it can also lead to high refund rates so even if you do make money initially, you'll probably find that they get refunded and you end up with very little.
I've written about this before as one of my reasons why people should stay away from a certain product on the Clicksure marketplace and sure enough that product turned out to be pretty much worthless.
There are also lots of discussions online from affiliates about their experience with Clicksure and they all painted a not so pretty picture about the affiliate network.
In any case, you can make money with Clicksure but there are other more reputable networks available with much better products.
After you choose a category on Clicksure, you can then select a sub-category link. Once you do this, you can find all the products under this sub-category and choose one to promote. Before you choose a product to promote from Clicksure you should do some research on it because you dont want to be promoting bad offers; this will lead you to have a bad name in the industry. As discussed above, the more credibility you have in a specific industry or niche, the more people are willing to listen and buy products you promote to them. You can add value by recommending good products/services that are worth the money people are spending on them. I usually buy the products on Clicksure before I promote them, just to make sure Im promoting a solid offer to my customers. I also give them a little review on the product because itll give them more of an incentive to actually go to Clicksure and buy this product Im promoting.
Clicksure provides you with a promotional link and youll want to copy and paste this link on your website or whatever platform you are using to promote the offer. After that youre all ready to start earning affiliate commissions fromClicksure every time you redirect someone to buy that product.
DON'T MISS OUT: Watch How I Helped 26,461 Average Ordinary People Make $5,000/Month In 30 Days Without A Website Or Having to Pick Up The Phone.. Ever!